Hello Everyone :),
Hope you all are doing Good…
So, Monsoon is here and its time to take extra care of our skin. Every monsoon my skin becomes dull, dark  ,dry and very itchy. I always try to find some or other solution for it and mostly I  prefer to use DIY`s on my skin Because lets be honest,its budget friendly and  using too many chemicals on your skin leads to several skin problems in long run which is a big no-no.
 If you are on the same boat then keep on reading :)……
We  all know Skin Care Routine is very essential to keep our skin healthy, spot free and nourished, after trying many DIY`s, I finally found a complete skin care routine which helps my skin to be healthy and nourished.
So I thought to share it with you guys, Hope you all will like it. 
Basic Skin Care Regime consist of Four main steps :-
Cleansing
Exfoliating
Toning
Moisturising
CLEANSING
The very first step is to cleanse your face. Cleansing helps in removing all the Dirt, Impurities, Dead skin and Excess oil , makes your skin fresh ,clean   and ready for next step.
To cleanse your face you will need 
Mix 2 tsp. Milk with 1 tsp. Honey ,Mix it well . It will form a fluid solution .Apply it on your face with the help of cotton, gently massage it and rinse it off with lukewarm water
BENEFIT :- Lactic acid in milk helps in reducing pigmentation. It is highly nourishing, So it will heal dry skin. It also gives cooling effect which would be helpful for suntan removal. Honey will give you an extra layer of nourishment and it also helps in skin tightening 
EXFOLIATING 
Second step would be Exfoliating .Exfoliating helps to remove old flaky skin ,It pulls out all the dust that accumulates in the pores of your skin which cleansing couldn't remove ,Making your skin Squeaky clean.
For Exfoliation  you will need 
Ground Coffee                 – 2 tsp.
Brown sugar                   -1 tsp.
Coconut oil                     -1 tsp.
Mix all dry ingredients first then add coconut oil to make a scrub like consistency .Apply it on your face ,Gently massage it for good 2-3 mins and then rinse it off.
BENEFIT :- Antioxidants in coffee fights Premature aging of the skin. It also Prevents breakage and naturally exfoliates dead skin ,Leaving skin smooth. Mixing it with coconut oil helps in nourishment of your skin. Sugar has Glycolic acid in it Which makes it a wonderful exfoliating agent that is why sugar is used in many scrubs to remove dead skin.
TONING 
Next comes Toning. Toning  is an important step that completes cleaning process but many of us don't realize its importance and choose to leave it .
Toners balance your skin`s ph. level. While toners are used to get rid of excess oil ,dirt and makeup ,They are also used to bring skin to its neutral Ph. level. Your pores will also appear smaller and tighter, lessening your chances of breakouts.
For Toning you will need 
Simply apply rose water with the help of cotton and let it dry.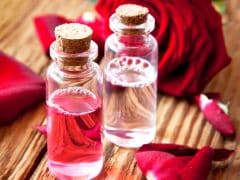 BENEFIT :- Rose water has AntiInflammatory properties that can help soothing irritated skin , It also helps in controlling Acne. Rose water helps to fight in aging ,hydrates the skin and tone it.
MOISTURISING
Last step of skincare regime is moisturising .moisturising helps to boost moisture and prevents dullness of skin. It also adds Vitamins and Nutrients  to the skin and gives a protective layer all day.
For Moisturising, you can use 
Apply Almond oil on your skin leave it overnight .Next morning you will find smooth ,hydrated skin.
BENEFITS :- Benefits of Almond oil are countless From nourishment to prevent ageing it does everything. It is mild and has hypoallergenic properties which is good for sensitive skin. Almond oil is good for skin is because it is rich in Vitamin E and Vitamin A which is a very effective anti-oxidant. It is very light so you will not feel any greasiness in your skin.
So here, your basic  skin care routine is complete .  Using DIY daily can be hectic for some people but at least you can try to do this routine once a week. Try this and let me know if you liked it in the comments down below.
:):)
DISCLAIMER :- If you are allergic to any ingredients mentioned ,please avoid using it.
​